Die Casting Parts
RELATED PRODUCTS

Parameter

die-casting process

Application

Production Process
MOQ:

5000pcs
JM can design and manufacturing special products according to the drawings or samples for your requirements
| | | | |
| --- | --- | --- | --- |
| | | | |
| JMDCP-001 | JMDCP-002 | JMDCP-003 | JMDCP-004 |
| | | | |
| | | | |
| JMDCP-005 | JMDCP-006 | JMDCP-007 | JMDCP-008 |
| | | | |
| | | | |
| JMDCP-009 | JMDCP-010 | JMDCP-011 | JMDCP-012 |
| | | | |
| | | | |
| JMDCP-013 | JMDCP-014 | JMDCP-015 | JMDCP-016 |
| | | | |
| | | | |
| JMDCP-017 | JMDCP-018 | JMDCP-019 | |
| | | | |
Die casting parts

Die casting mold

type

Single cavity molds / Multi-cavity molds of the same part /Family cavity molds

Two or three plate molds is available

Material

SKD61, H13, DIEVAR, QDN, 8407,2344V,TQ1,2343,45#Steel etc.

dimension

According to the drawing or sample

Production Process

Polish/Sand Blast/EDM/Milling/Texture/Grind/Pre-Treatment/Quenching /Lathe/Wire Cut/Annealing/Temper etc.

Machine

Milling machine/EDM/EDM wire cut machine/Die casting machine/CNC machine/grinding machine/Drilling machine/Lathe machine etc.

Die casting part

Material

ADC12/ADC10/A360/A380/A356/Zinc 1# Zinc 2# /Zamak 3/ZL102/YL104/YL112/YL113/AIsi12Fe/AISi9Cu3 etc.

Finished/surface treatment

Powder coating/Plated/Anodize/Painting/Chrome plating/Sand blasting/Nickel plated/Chromat conversion coasted/electroplate/Galvanized etc.

Mold and parts

Design software

CAD, UG, Pro/E, Solid works, JSCAST-V8 of Japan, Flow3d.v9.2 of America etc.

Certification

ISO9001:2001, ROHS, SGS

Die casting parts

Application

Precision metal parts and components / Computer Peripherals / Consumer Electrical Components / Medical / Industrial Components / Telecommunications / Automotive / Lighting components / Furniture components etc.

Quality control

CMM (3D coordinate measuring machine), 2.5D projector, Thread gauge, hardness, caliber. A closed-loop QC system, Third party inspection available if required

Application

1. Automobile and motorcycle parts: engine cover, cylinder head, brake pad, shraft, clutch, etc.

2. Lights & lamps parts: heatsink, lamp cup, light housing, LED/street/ down lamp spares, etc.

3. Doors and windows parts: door(window)handle/hinge/lock, door stop, glass clamp, etc.

4. Electrical appliance parts: connector, telephone junction box , waterproof terminal box, etc.

5. Furniture hardware fittings: sofa legs, furniture brackets, staircase fitting, decorations, etc.

6. Industrial hardwares: control valve housing, air tools, engine cover, instrument parts, etc.

7. Machine spareparts: machine vavle, base plate, end plate, propeller parts, etc.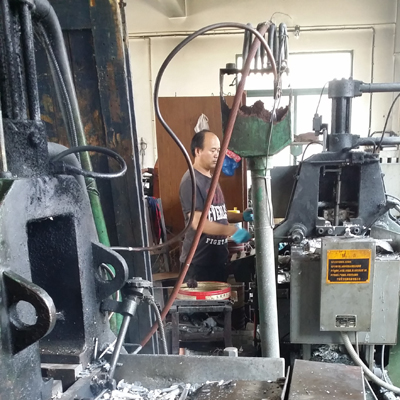 Description of die-casting process: Die cast is a kind of pressure casting parts, which is processed by casting the liquid copper, zinc, aluminum, aluminum alloy or Zn-Al into the feeding inlet of die-casting machine equipped with a casting mould, to cast the parts of same shape and size with the mould. Such parts are often called die casts. Die cast have different names, such as die casting parts, pressure cast, die cast, die-casting aluminum, die-casting zinc, die-casting copper, copper die casting, zinc die casting, aluminum die casting, aluminum alloy die casting, and aluminum alloy die casting parts, etc.
Advantages:
1. Because metal copper, zinc, aluminum ,aluminum alloy and Zn-Al have good liquidity and plasticity, and casting processing is conducted in die-casting machine with pressure, the die casting can be processed in various complicated shapes with high precision and smooth finish, so as to significantly reduce the mechanical processing capacity of casts
2. saving not only electricity and metal materials, but also labor cost;
3. while copper, zinc, aluminum and aluminum alloy have good thermal conductivity, small proportion and high machinability; therefore, the die casts are widely used in manufacturing of automobiles, internal combustion engines, motorcycles, motors, oil pumps, transmission machinery and precision instruments, landscaping, power construction, building decoration and other industries.